England Captain Harry Kane becomes RBLI Tommy Club Ambassador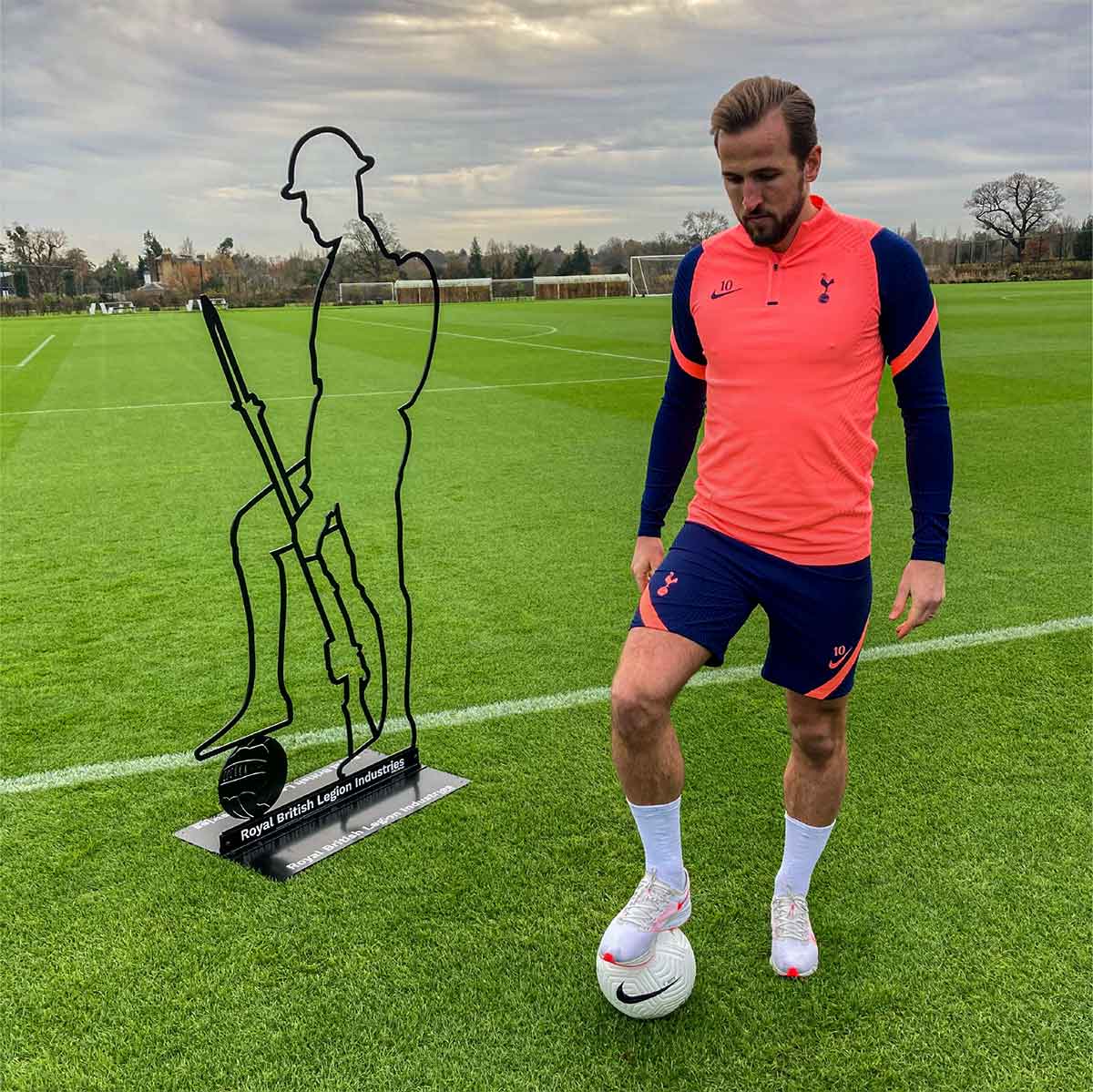 England captain Harry Kane is the latest to become an official ambassador for Royal British Legion Industries' national support club for vulnerable veterans, the Tommy Club.
RBLI's Tommy Club, which is headed by club president former head of the British Army General the Lord Richard Dannatt, sees its supporters, dubbed Tommy Champions, rise through bronze, silver and gold ranks by fundraising for military veterans.
In return, champions have access to exclusive products made by a team of injured veterans and people with disabilities employed in RBLI's Kent social enterprise factory, Britain's Bravest Manufacturing Company. BBMC employs more than 100 people – 70% of whom are veterans, have a disability or both.
The Tommy Club, which launched in October at RBLI's Kent village, has already raised more than £150,000 for military veterans. The club counts famous faces and leading companies amongst its founding patrons including musician Jools Holland, TV explorer Levison Wood and the country's biggest house builder Barratt Developments.
England international and Tottenham Hotspur striker Harry Kane said:
"I am thrilled to be a Tommy Club Ambassador."

"RBLI have supported military veterans for more than 100 years and I know the great work they do employing ex-service men and women and helping them overcome significant challenges."

"I encourage people to get involved and support the Tommy Club as every new champion makes a difference. Together we can improve the lives of our nation's heroes."
To show his support for RBLI's latest Tommy project, Kane was pictured at Spurs' Enfield Training Centre next to a life-size Tommy soldier figure made by the veterans working in RBLI's Kent factory.
The figure, called Tommy United, is the latest in a range of Tommy figures produced by the ex-forces team, recognises the famous Christmas truce of 1914 which saw British and German forces come together to play football between the trenches of the First World War.
This year, the team of veterans at RBLI raised more than £1 million through the sale of 30,000 10-inch Tommy figures for the 75th anniversaries of VE Day and VJ Day as part of the charity's ongoing Tommy in the Window campaign, which encourages people to place the figures in their windows as a show of public support for the veteran community.
Every penny raised through the sale of the figures and funds raised through the Tommy Club goes directly to RBLI's wide range of services.
Tommy Club President and former Chief of the General Staff Lord Dannatt said:
"Football is a universal language and in 1914 people were able to put aside their differences and come together for a brief moment and play the beautiful game at a time of great struggle. Despite everything they managed to create a moment of peace. This year, we have all faced challenges, and it's given us an opportunity to reflect and draw strength from our heritage.

"I am delighted that Harry Kane is helping to draw attention to RBLI's special edition Tommy and the Tommy Club. I have been so impressed with all the thousands of people who have been putting their Tommies in the window this year. It will be fantastic to see this special edition Tommy figure in windows helping, once again, to improve the lives of our veterans.

"RBLI's factory has been able to stay open all this year – and only because of the public's support for the Tommy. It is something our nation can feel very good about."
By being a Tommy Club Champion you help RBLI provide support to the nation's heroes. If you would like to help further why not the range of products made by injured veterans in RBLI's factory, visit www.rbli.shop