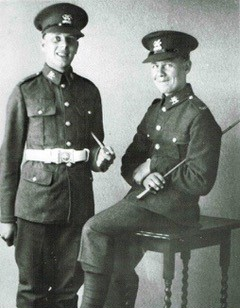 My Dad, who is now 78 years old, lost his Dad (my grandfather) on 17th March 1945 – three days after my Dad's third birthday. We believe he was fighting in North Africa with Montgommery's Desert Rats, fell ill and somehow ended up in St John Hospital in Jerusalem where he died.
During the Second World War, the Ramleh (now Ramla) cemetery was used by the Ramla Royal Air Force Station and by various Commonwealth hospitals posted in turn to the area for varying periods. He was buried in the British and Commonwealth War Cemetery in Ramla.
The Desert Rats, byname of the 7th Armoured Division, were group of British soldiers who helped defeat the Germans in North Africa during World War II. Led by Gen. Allen Francis Harding, they were especially noted for a hard-fought three-month campaign against the more-experienced German Afrika Korps.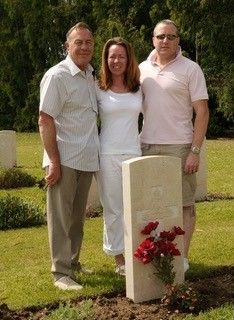 I can't begin to adequately describe how emotional our visit to the War Cemetery was. To tell you what it was like to hear your Dad say "Hi Dad" for the very first time after spending my whole life saying "Hi Dad" is impossible. It took all my strength not to just collapse in a flood of tears. It wasn't my day, it was my Dad's day and I held it together. The trip was for him so he could speak to his Dad, something he had never done and something I had always, and still do, take for granted.
I hope the trip gave my Dad some sort of closure. Rightly or wrongly, he has always said how war "wastes lives".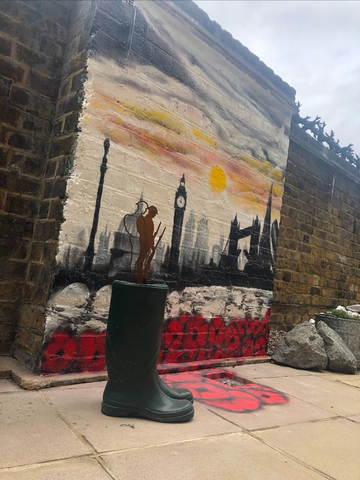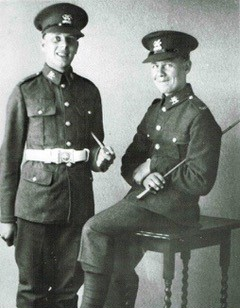 In early 2012, leading up to my father's 70th birthday I asked him "what do you want for your birthday?" expecting the answer to be the usual "socks would be lovely". His reply, which threw me for a moment was "I would like to go and speak to my Dad as I've never spoken to him". Wow! So I set about working out how the hell I get him to the middle of Israel! I worked it out and so in May 2012, my Dad, my brother and I flew to Tel Aviv.
A very kind local contact of mine arranged for a driver and tour guide for the day called Jacky. Jacky was also a very good amateur photographer and so he took some wonderful photos. We also found this black and white photo and we think the soldier sitting down is my grandfather.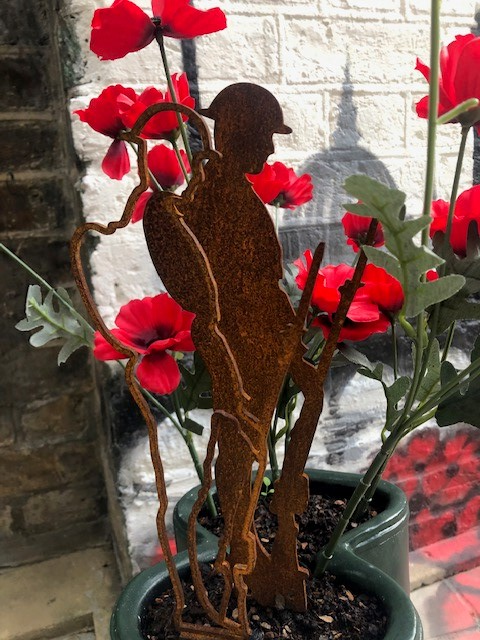 Because of my grandfather, Remembrance Sunday, Tommy's and the respect for all those who gave their tomorrow for my today, has always been important to me.
When Martin and I were deciding what to replace our original garden mural with Tommies were always going to feature. We commissioned 'Banksy-esque' Graffiti artist, A. Dee – aka The Artful Dodger, who has been at the cutting edge of the scene for more than 20 years, to create a tribute mural for my Grandfather and his generation that so selflessly gave their lives.
Suzie Orell
Garden owned and decorated with husband Martin.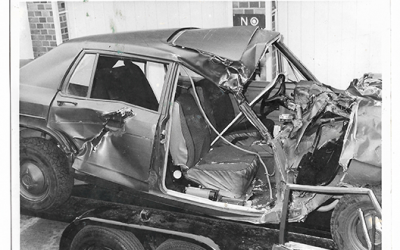 Barry's StoryI Joined the Army in 1966 with the Royal Corps of Transport. During my 22 years, I served in several units across the world, one such unit was in Berlin, Germany BAOR. The unit was known as Brixmis, its mission was the Liason between the Soviet Army in...